What is a Mouse Bait Station In Nutshell:
A mouse bait station is a mouse trap that houses poisoned bait safely. It's a lockable box which prevents pets or children gaining access to mouse poison.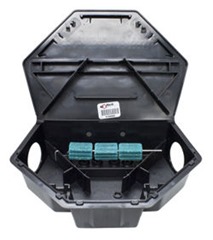 A mouse bait station is a device, usually made of plastic, which is sealed except for, usually, a single entry point, though some have two entry points. The mouse can enter through the hole, attracted to the device by the smell of what it thinks to be a food source. What it finds inside is actually poison bait block. However, the mouse considers it to be a tasty meal and eats heartily. This, unfortunately for the mouse, ensures its death by poison.
A mouse bait station is often triangular in shape, which lends itself to being placed unobtrusively in the corner of a room. This makes it a type of mouse trap that doesn't obviously look like one, which may be more acceptable to many homeowners who want to get rid of their mouse problem, but don't want the house littered with what is unmistakably a mouse trap.
How does it work?
The mouse bait station requires a key to open it and gain access to the inside. The construction is a simple one, making it easy to service and clean. Bait blocks can be threaded on to a bar supplied for the purpose and suspended on points designed to hold the bar. In this way the mouse can easily eat from the poison bait blocks inside the mouse bait station.
Some designs simply have an area where poison pellets can be scattered for the mouse to eat. Either way the mouse will eat an amount of poison that will kill it.
Pros & Cons
One big pro for this type of mouse trap is the fact that you can use poison to eliminate mice, but have it in a container that requires a key to open the device. The mouse bait station locks automatically on closing. The station design is such that it can be used around children and pets, who will not be able to gain access to the poison, and thereby cause accidental poisoning to themselves. It is tamper resistant and can be reused for years.
The main con with a mouse bait station is that it still uses poison, which is still potentially dangerous, even if pets and children cannot get access to it. In order to use this type of mouse trap, you will need to store the poison bait blocks somewhere, and that could prove to be a weak link in the procedure.
What do we say at Pest Control Products?
While mouse bait stations are undoubtedly efficient at killing mice, and they are as safe as it gets with using poison in the home, rodent poison will still cause the rodent to suffer prior to its death. Unlike an electronic mouse trap, for example, the animal is not killed instantly. Poison takes a certain time to work, even fast poison, and there will be suffering during that time.
At Pest Control Products we believe that while a mouse bait station is a very effective and safe method of getting rid of mice in the home, there are better, less cruel, methods of achieving the same results, and they will take no more effort on your part either. Here is a detailed set of instructions on how to get rid of mice.