There's a good chance you're reading here because you've got a problem with rats or mice in your property. Our top three wildlife camera traps focus on their ability to catch these pests in the act. They're pests because when they start to breed and infest homes they become a threat to human health. They can also destroy property. Most common rodents only come out at night time, which makes these cameras extra valuable. Left unchecked, rats and mice soon adapt to their environment and wreak havoc with home life.
The damage and potential harm rodents can cause is no laughing matter. So it's time to put a stop to this threat once and for all. But it's not possible to apply solutions until you can first identify the cause of the problems. This is where camera traps come to the rescue. Without them, the only alternative is to stay up all night—for as many nights as it takes—until you can identify the culprits. The downside to this approach is that rats and mice are fast, smart, and sneaky. Because of this, there's no guarantee you'll get anything more than a fleeting glance of a shadow. Without identifying these critters and where they travel, you won't be able to apply the best solutions.
How Camera Traps Help
Camera traps are small digital cameras that that can record video and shoot stills based on your settings. They're also robust and very easy to mount.
The best cameras offer a couple of key options, namely:
Night vision
Capture still images at predefined intervals
Capture still images and/or record video triggered by motion detection
Once your cameras are in place it's then just a waiting game. If there're resident intruders in your property, it won't be long before you get to identify what creatures are causing all the upset. The cameras are also useful to see if the bait and traps are working properly. If they're not, you can change tactics, but at least you'll know.
Note: Click the links in the "Table of Contents" to jump straight to the topic of interest.
Table of Contents

What to Look For in a Camera Trap

#1 – Our Top Choice – Arlo Security System – Wire-Free HD Camera, Indoor/Outdoor, Night Vision

#2 – Our Second Choice – Bushnell Trophy Cam HD Essential E2 12MP Trail Camera

#3 – Our Third Choice – APEMAN Trail Camera with 12MP 1080P 2.4″ LCD
What to Look For in a Camera Trap
Affordability is always a factor, but you also need to make sure the camera you buy checks all the right boxes. In all the products I reviewed, there are six things that are must-haves and one "nice to have" for catching mice and rodents in the act. Here's a list of what you should look for in any indoor wildlife camera trap:
Wireless for no-fuss, easy positioning
HD quality helps to identify the pest
Night vision capability with good clarity
Small enough to place wherever you need
Motion detection (extends battery life considerably)
Easy to use and maintain
"Nice to have": WiFi enabled – so it can send alerts to your smartphone in real-time.
#1 – Our Top Choice – Arlo Security System – Wire-Free HD Camera, Indoor/Outdoor, Night Vision
My first preference is the Arlo smart home indoor/outdoor HD security camera.
What Makes this Camera Trap My First Choice?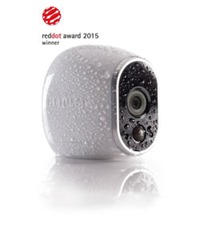 The Arlo HD is a security camera and is my top pick for good reasons. It's a versatile, high-definition camera that you can use outdoors and well as indoors. Its clear night vision makes it the perfect choice as a wildlife camera trap. Arlo's free App lets you watch live-streaming or recorded footage direct on your smartphone, computer, or tablet, wherever you happen to be. The clarity of this camera is perfect for identifying any night creatures that come into its field of view (FOV) and what their behavior is.
I like this camera because it has impressive clarity, even in the dark, which is exactly what we want. There are no wiring issues to worry about either. The motion alerts, live streaming to your smartphone and 1 week free cloud storage are other deciding features that make this my top choice. You can read the full spec here (#ad).
The video below shows a rodent caught on camera. You can see where it came from and where it goes. As they frequently follow the same runway, if this was your home, you will know exactly where to place your traps.
Installing The Arlo smart HD Security Camera
Setting up and installing the Arlo smart HD security camera could not be easier. Because there are no wires to worry about, you can be creative in where you position your camera(s). If you need to reposition them, it's as easy as picking the unit up and placing it in a new location. Setting the camera up to only record when there's motion means you get the maximum life out of the batteries.
How Easy Is It to Use?
This camera is as easy to use as installing the free app and positioning the unit. Everything else is self-explanatory. You will have this camera up and running within minutes of taking it out of the box.
How to Maintain the Camera?
This is a sturdy, weatherproof camera. The only maintenance required is to change the batteries when they get low, and to make sure the lens stays clean and unobstructed at all times.
The Arlo HD Camera's Key Features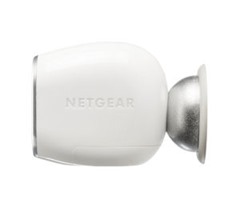 Here's a quick rundown of the Arlo smart home indoor/outdoor HD security camera (#ad) key features:
Easy to set up – typically within a few minutes out of the box
100% wire-free – allows instant, hassle-free repositioning of the cameras
Computer not necessary – you can monitor all your cameras on a Smartphone or tablet
Night vision (great clarity) – essential for identifying the type of pest and where it goes
HD quality – makes viewing on different types screens much clearer
Motion alerts – saves battery life by only recording or taking picture when there's motion
Weatherproof – Safe to use in damp or drafty attics and outdoors
Free cloud storage – gives instant and remote access to your footage from anywhere
What Are Other People Saying:
There are plenty of product reviews on sites like Amazon for the Arlo smart home indoor/outdoor HD security camera. There are almost 11,000 votes at the time of writing. With so much customer feedback, 4.1 out of 5 stars is an excellent rating overall. People like the ease of use, the camera's design—saying that it's aesthetically pleasing. It might seem like a minor detail, but product aesthetics do count. The simplicity of use for this camera is another big thumbs-up for the product. The impressive quality is also a major plus point with most users.
Some negative points mentioned include:
Motion detection picks up shadows during daylight: If you use the camera in daylight, you can usually resolve these issues by repositioning the unit and adjusting sensitivity settings.
Motion detection lag (slow to trigger): Once again, a little tweaking with camera positioning and adjusting the sensitivity settings should fix this.
Short battery life at optimized settings: It's not usually necessary to record at the optimal settings. Recording only when detecting movement will increase battery life considerably.
Customer support unprofessional: Before contacting customer support, it's been my experience to have all the specific details and questions ready before making the call. A lot of confusion is often down to misunderstanding, and incorrect user information, than actual lack of knowledge.
Where to buy the Arlo Security Camera Trap
Although designed primarily as a home security product, my review here has been about the unit's ability to be used as a wildlife camera trap. For this purpose I found it to be a great product. This is why I recommend it for recording and identifying house pests, particularly mice and rats. In addition, once you have successfully got rid of your pests you can then reuse the camera as a security camera to keep an eye on what's happening around your home. I find Amazon to be one of the safest places to purchase it online and appear to offer the best prices. Check the current price here (#ad).
---
#2 – Our Second Choice – Bushnell Trophy Cam HD Essential E2 12MP Trail Camera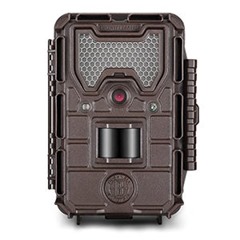 The "Bushnell Trophy Camera Trap" is a trail camera and designed to take pictures and videos of wild animal's outdoors. This means it is of a robust construction and weatherproof. However, it can be used just as effectively indoors. It doesn't come with batteries, and it is recommended you use AA lithium or alkaline batteries which last a YEAR! Rechargeable batteries do not last as long and are very expensive, which is why I wouldn't recommend using them. It is less money than the Arlo camera, but it doesn't have as many features, for example:
It doesn't send email alerts.
Pictures and videos are saved to an SD-card which means you have to download the SD-card to your computer/laptop every day. This is a major disadvantage and why I prefer the Arlo camera because the Arlo automatically sends alerts and pictures to my phone.
It doesn't come with an SD-card (more expense). I recommend getting a 32GB card.
You can't fit it to a camera mount, which limits your options on where to place it.
It has visible red LED lights, which is not very good if you are considering also using it as a security camera because the burglars would see it… and probably steal it.
The features I do like about this camera are:
The price
12 month battery life – this is very impressive and far better than the Arlo camera.
Night vision is very good.
You can set it to take 1-3 photos per trigger or 5-60 seconds of video. For trapping rats and mice, I would start with setting it to video for 60 seconds.
It comes with a strap which makes it easy to tie to rafters in the attic or a tree if you are using it outside.
Where you can buy the Bushnell Trophy Cam
If you buy the camera from Amazon, not only do you get free shipping, it is also covered by their excellent return's policy. Check out the prices on Amazon here (#ad).
---
#3 – Our Third Choice – APEMAN Trail Camera 12MP 1080P 2.4″ LCD Game & Hunting Camera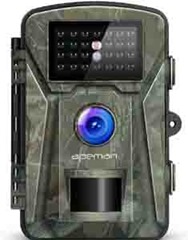 The APEMAN is also a wildlife trail camera. I've included this in the review because it is a budget camera. However, it has some unexpected features which the Bushnell doesn't have:
It has a 2.4″ LCD screen so you can view pictures and videos on the camera without having to download them to a PC.
It records in full HD at 1080p compared to the Bushnell 720p. This means you get a larger and sharper picture.
The features which aren't as good as the Bushnell include:
Battery life – this doesn't even come close to the Bushnell's 1 year.
Trigger speed is slow at 0.5 second compared to the Bushnell's 0.3 of a second.
I believe these two features to be very important and are two good reasons to choose the Bushnell over this camera.
However, when you compare the APEMAN to our #1 Choice – Arlo camera – there is no comparison. The Arlo wins on so many fronts, including:
Build quality
Support
Picture quality
Ease of use
And most importantly, the key features I like best are being sent notifications immediately when a rodent is detected and viewing images in real time on your smartphone.
Check what users are saying about this camera in the review's section on Amazon by clicking here (#ad).
---