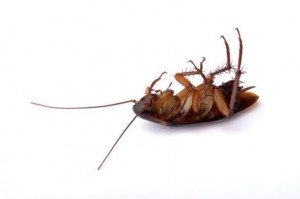 The goal of my articles on cockroaches is to give you some very good options for getting rid of roaches for good. But before you set out on your program to make your home cockroach-free, here are some basic facts about roaches that will help you know your enemy.
Note: This is a long post, so we have provided a Table of Contents below. Click on any link to jump straight to the information.
1. Cockroaches are an amazingly diverse group of insects.
While we typically think of cockroaches in terms of waterbugs, or palmetto bugs (Periplaneta Americana), or the feces-eating, sewer-dwelling German cockroach (Blattella germanica), it is interesting to note various species of cockroaches can resemble flies, wasps, beetles, pill bugs, and limpets (sea snails). There are hairy cockroaches, cockroaches that breathe through snorkels, cockroaches that chirp, and several species of cockroaches in which males glow in the dark.



2. Cockroaches haven't ever ruled and probably won't ever rule the world.
Images of the primitive earth of the Carboniferous period 300 to 360 million years ago, in which vast rain forests covered the earth (and became carbon deposits such as coal and oil found across the earth today) often include giant cockroaches. The ancestors of today's cockroaches, however, did not appear until the middle of the Mesozoic Era 150 million years later, during the time of the dinosaurs, and even the largest fossil cockroaches are no larger than today's largest tropical cockroaches (up about 4 inches/100 long). Cockroaches, of course, have been around a very, very long time.



3. Although cockroaches appear in a diversity of forms, the kinds of cockroaches that are household pests are not hard to recognize.
A cockroach has a flat and "squashed" oval body. Its head is covered with a shield-like exoskeleton called a pronotum. This body part serves as a shield, shovel, edge, plug, crowbar, and battering ram. The mouth of the cockroach is fitted with chewing mouthparts that extend in front of the head. It has two sets of wings. The wings in front are tough and leathery, while the smaller wings behind them have more of a glassy, hyaline appearance. The "baby" cockroaches called nymphs look like miniature adults except for the fact that they do not have wings. Juvenile cockroaches grow through a series of instars, in which their bodies outgrow their skeletons so it is necessary for the insect to molt, shedding its "skin" and making itself temporarily especially vulnerable to diatomaceous earth and poisons.



4. Male and female cockroaches aren't hard to tell apart.
If you have an opportunity to squish just one cockroach, you probably want to exterminate the female, which can lay hundreds of eggs. Male cockroaches tend to have longer, thinner bodies, and female cockroaches tend to have round, flat bodies. The differences are especially evident in flying cockroaches, such as palmetto bugs.



5. American cockroaches are especially large and vigorous.
The most common kinds of indoor cockroaches are German, Oriental, and American. American cockroaches are also known as palmetto bugs or waterbugs. The German cockroach grows just about half an inch (12 mm) long, while the Oriental cockroach grows about 1 to 1-1/4 inches (25 to 30 mm) long, and the American cockroach grows up to 2 inches (50 mm) long. German cockroaches hatch and mature in 9 to 12 weeks, while Oriental and American cockroaches hatch and mature in 9 to 12 months. German cockroaches live just 2 or 3 months, while Oriental cockroaches live more than a year and American cockroaches may live to almost 2 years. German cockroaches prefer high humidity and heat, up to about 90° F (32° C), while the larger species of cockroaches are active at temperatures as low as 68° F (20° C). Simply turning down the heat, or turning on a dehumidifier during the summer, greatly cuts down on cockroach activity.



6. Cockroaches salute each other with their antennae.
When two cockroaches seem to be rubbing antennae, they are actually sending high-pitched communications through the horny protective exoskeleton that covers their heads. Dominant cockroaches inform submissive cockroaches of their territory, and if necessary, head butt them out of the way.



7. If you find a very large roach, it probably lived a solitary life.
Finding any roach is icky, but finding an exceptionally large roach in your house (assuming you don't live in a humid, tropical location) is a sign you don't have an especially bad infestation. When large numbers of cockroaches hatch at the same time, they emit hormones that keep the final body size small. When a cockroach hatches by itself or with just 2 or 3 siblings, it grows into a much larger adult. A typical life span of an Amercan cockroach is about one year.



8. Ants and cockroaches are natural enemies.
If you happen to live in a part of the United States that has major infestations with fire ants, you are not likely to have cockroaches coming into your house from outdoors. Ants are natural enemies of cockroaches, because they attack (and eat) larger roaches, although small roaches sometimes can flatten themselves against the floor, the ground, or another hard surface so that the ants only can bite the hardest parts of their exoskeleton, so they survive the ant attack.



9. Palmetto bugs are among the fastest of all ground-moving insects.
The American cockroach, more often referred to as the palmetto bug, moves as fast as a human can walk—or run. Its speed is due to the fact that it moves its three pairs of legs in sequence, 3-2-1, keeping its body flat against any surface, and allowing it to stop and start suddenly. The cockroach can also change direction very quickly, giving it the appearance of even greater speed.
One of the ways a group of cockroach poisons known as pyrethrins affect the insects is by interfering with the coordination of the legs, making the muscles twitch so that one or more pairs of legs moves twice when it should move just once. A poisoned cockroach starts moving its legs out of sequence and winds up on its back, unable to turn over, flailing its legs in the air.



10. Roaches are capable of stabilizing themselves on uneven surfaces.
Two insect researchers named Jindrich and Full studied self-stabilization of cockroaches by fitting the roaches with tiny miniature cannons glued to the centers of their bodies. The cannons were fired to knock the cockroach off balance in the middle of a run. Every roach tested was able to regain its footing without losing a single step, due to the resilience of its exterior skeleton and the strength of its muscles. Just swatting a roach won't cause it any harm, or make it go away.



11. Elderly roaches have trouble climbing steps, or walls.
As cockroaches get older, their legs tend to catch on each other. As a result, an aging roach usually moves along the floor, unable to climb, often stumbling over uneven surfaces.



12. Some cockroaches have been fitted with cameras and communications equipment to search for bombs or survivors in collapsed buildings after earthquakes.
Although cockroaches are being replaced by "biologically inspired robots," some bomb squads and rescue teams use specially outfitted roaches to search spaces far too small to send humans. In some applications, the cockroaches have tiny GPS devices fitted on their antennae to give exact locations of the objects, or people, their cameras detect.



13. Like mice and rats, roaches like to travel alongside hard surfaces.
A roach usually keeps on antenna in contact with a wall as it moves along, so it can defend itself by pressing against the wall if it is attacked. For this reason, it is usually best to put out roach motels and roach poisons along walls, or in corners.



14. Roach feet can emit sticky substances to help them climb.
A roach's foot can secrete tiny dots of a natural glue that helps the insect climb vertical surfaces. The bottom of the foot is shaped something like a suction cup, with the glue in the middle of the foot. The whole process of secreting glue, attaching the foot to the vertical surface, and using the foothold as the legs move in sequence takes just a tiny fraction of a second.



15. Cockroaches can swim.
As anyone who has ever tried to flush a roach down the toilet can attest, cockroaches can swim. The cockroach's body will float, and its tough outer cuticle protects it against any chemicals that may be found in the water. The hard "helmet" on the cockroach's head can trap a bubble of air that keeps the roach from drowning.
The American cockroach can swim up to 4 inches per second, and its antennae detect any solid object toward which the roach can swim to gain a hold. The roach's legs move in the same coordinated motion during swimming as during walking and climbing. When a roach is stranded in water, such as falling into a sink or swimming pool, it will usually be able to escape to find a dry surface in 10 minutes or less. The more times a roach has fallen into water, the better it is at finding its way out.



16. Palmetto bugs can fly up to 100 feet (30 meters).
Palmetto bugs have been observed flying out of open sewer manholes and into houses. In a German zoo, a palmetto bug was tracked for 100 feet, flying 4 to 6 feet (about 1.5 to 2 meters) above the ground. The smaller, German cockroaches can glide across a room when disturbed, but they cannot usually fly in through an open window from outdoors, like American cockroaches.



17. There are very few places on the planet that are naturally cockroach-free.
Roaches generally can thrive in any environment that is comfortable for humans. Even in the high arctic and in Antarctica, cockroaches have hitched a ride with food supplies and taken up residence in tents and shelters. Cockroaches are especially abundant, however, in the humid climates between 30° S latitude and 30°N latitude. The farther away from the equator one travels, the fewer numbers and species of roaches. One entomologist identified 64 species of roaches in Panama, 31 in Texas, 14 in Illinois, 9 in Michigan, 5 in Minnesota, and 2 in North Dakota.
Even in the tropics, roaches seem to dislike altitude. The higher reaches of the mountains in Hawaii, harbor very few of the pest. Where the climate is extremely hot, however, such as in parts of Texas, roaches are also less common.



18. Roaches have a sensitive biological clock.
The brain contains an area similar to the pineal gland in human beings. This section of the cockroach brain stimulates activity at night and minimizes activity during the day. Turning of a light may be all you need to keep roaches out of a cupboard or cabinet (although they will just be more active somewhere else).



19. Many American species of cockroaches have a natural "antifreeze" that protects them from freezing during the winter.
Some roaches have a chemical in their bloodstream that prevents ice from forming crystals, keeping it from rupturing cells. This allows the roach to survive temperatures well below freezing for months at a time. A roach that has been frozen in ice will revive in less than 2 minutes, and will be able to move around in less than 10 minutes.



20. Mice and rats feed on cockroaches.
A large part of a rat's diet may consist of roaches. Getting rid of roaches helps get rid of rats.



21. It's a myth that cockroaches would probably survive a nuclear war.
Cockroaches can withstand 6 to 15 times more radiation than humans. The reason roaches are radiation-resistant is that cells are most vulnerable to radiation when they are actively dividing, and a roach's cells only divide just before it molts. While a roach can withstand a great deal more radiation than a human most of the time, the radiation released by nuclear weapons is sufficient to kill both.



22. Cockroaches, like people, will eat just about anything.
Or at least the four species of cockroaches that are common household pests will eat almost anything. A domestic cockroach's diet may include any food a human will eat, plus paper, the feces of other animals (or humans), wax, insulation, rubber, dead animals, dead insects, and trash. In the wild, cockroaches tend to be fussy eaters, but indoors, they are omnivores.



23. Urban cockroaches eat food where they find it.
Many of the world's 4,500 species of cockroaches eat on a "grocery store" model, carrying food back to burrows where they can store it and eat it in safety. Roaches that live in houses, restaurants, supermarkets, and other buildings where food is stored, however, eat food where they find it, so they do not have to share it with other roaches. Get rid of food, and you get rid of roaches, at least in the area you clean up.



24. Palmetto bugs have well developed food memories.
Palmetto bugs can remember where protein foods are stored, although they do not appear to have very good memories for the locations of carbohydrates and fat. Scientists believe that this is because it is easier for most roaches to find carbohydrates than it is for them to find protein foods. Both palmetto bugs and German cockroaches will try to eat a balanced diet of both plant and animal foods, to get vitamins and minerals as well as protein, carbohydrates, and fat. The younger the roach, the more it is attracted to meat scraps and protein foods.



25. Roaches are resistant to starvation, especially if they have a water source.
A palmetto bug can survive about six weeks (42 days) without any food or water. If it has water, it can live about 3 months, adult roaches sometimes capable of surviving up to a year. Making sure faucets don't drip and pipes don't leak is a key step in controlling roach problems.



26. Hungry roaches eat more.
While it may seem obvious, roaches that have not eaten for a period of days, weeks, or months, will eat up to 5 times more than roaches that have digested their last meal in the last 24 hours. A roach will not flit from place to place when it is hungry, but rather find the largest available food source and eat all it can. This means you can't expect to find hungry roaches all over a cupboard or storeroom. They will find a single location for their all-you-can-eat buffet.



27. Roaches eat houseplants and garden plants.
Roaches are especially fond of tender seedlings, young leaves, and growing shoots. They may spend the day hiding in potting soil to emerge and night and feed on a plant.



28. The longer trash stays in the rubbish bin, the tastier it is for roaches.
Roaches don't just eat the bits and scraps of leftover food placed in the trash can, they also feed on the bacteria, fungi, and insects that grow in the trash. The longer trash accumulates before it is taken outside, the more there is for roaches to eat.



29. Roaches feed on human body parts, too.
Chances are you have seen a scary movie that included a scene of hordes of roaches running out of a disturbed corpse. Roaches can eat copious amounts of dead human flesh. They can also feed on dead skin, earwax, dandruff, "nose buggers," fingernails, toenails, eye crust, and salivary secretions. Sometimes roaches will feed directly on the body of sleeping children. Roaches can bite, leaving nasty scars on growing skin, and hard to heal wounds on aging skin. The worst problems with roach attacks on people occur in tropical living quarters, on ships, and in nursing homes.



30. Many people are allergic to German and American cockroaches.
German (small) and American (large) cockroaches can trigger wheezing, sneezing, runny nose, itchy eyes, and skin rashes. When the infestation involves an especially large number of desiccated, dried up roaches, there can even be life threatening anaphylactic reactions that involve swelling of the tongue and throat and closure of the windpipe. German and American cockroaches are found all over the world, not just in Germany and America, and are especially abundant in Southeast Asia. The 4500 other kinds of roaches found in the tropics, however, almost never cause allergy symptoms.
In Thailand, about 60% of the population has cockroach allergies. In the United States, about 33% of the population has cockroach allergies. People develop allergies to cockroaches after exposure. If the house has usually been cockroach-free, there will be no allergy problems even if a few stray roaches find their way inside occasionally.



31. Almost all roaches are cannibalistic.
Every time an immature roach nymph grows, it has to shed its skin. The newly-shed skin is a favorite food of all roaches. Either the nymph itself will eats its own skin, or a larger nymph or adult will steal the skin and eat it. Roaches eat the eggs of other roaches, and a female roach will consume the cases of her own eggs after they hatch. Cleaning up any dead roach parts helps keep roach problems in control. Vacuuming carpets and upholstery and making sure there are no piles of trash or clothes in which roaches can lay their eggs helps keep roach problems in control.



32. Roaches are especially fond of "foods" with a high disgust factor.
Roaches feed on fecal waste in sewers, cesspools, outhouses, latrines, garbage cans, animal waste collection cans, litter boxes, garbage cans, animal cages (especially bird cages), chicken houses, and barn yards. The reason they are attracted to fecal material is in part because it is rich in water. Roaches that eat fresh feces do not have to find a water source. Also feces is a breeding ground for bacteria, amoebas, protozoans, and fungi, many of which have very high vitamin content. Roaches particularly benefit by making meals of fecal waste that is full of disease-causing bacteria, because not only do they make a meal of the bacteria in the waste, they can carry the microbes back to infect people to sustain their food supply.



33. Roaches strip bacteria off decaying food.
Sometimes roaches in the house are picky eaters. They don't eat decaying food, but they strip off the bacteria growing on the surface of decaying food, which are, from the standpoint of the nutritional requirements of roaches, more nutritious than the food itself. Many bacteria are excellent sources of complete protein, essential fatty acids, and carbohydrates, much like spirulina is for humans. Bacteria also break down compounds that roaches cannot digest, such as tannins and cellulose.
Cockroaches do not urinate. Their bodies store uric acid in their body fat, until it accumulates to toxic levels. The roaches then defecate their "urine" and bacteria feed on it, and the roaches feed on the bacteria. A male cockroach will "urinate" on its mate immediately after sex in order to provide food for its young. Male cockroaches that do not find mates can accumulate so much uric acid they literally explode.
After feeding on bacteria, roaches then spread them to other foods on which they feed, creating a more sumptuous all-the-bacteria-you-can-eat buffet for the roach. Roaches also eat the bacteria off decaying pet waste and dead animals.



34. Cockroaches mate for an hour to 90 minutes at a time, but only once every few weeks.
If you happen to come across two cockroaches in the act of reproduction, they will stay in the same location for as long as 90 minutes—plenty of time to flush or spray them. There will not be another opportunity to get rid of these roaches in this manner for several weeks.



35. Cockroaches lay eggs in batches.
The female cockroach releases eggs in a protective coating known as an ootheca. Up to 100 eggs in a double row are covered by the ootheca, all of the nymphs hatching at the same time. If the "mother" cockroaches senses that conditions are not ideal for hatching her eggs, such as the hatching sight becoming too dry, too hot, or too cold, she will eat her eggs and try again. Vacuuming up a single egg case (and remembering to empty the vacuum cleaner into an outdoor trash receptacle) can prevent the emergence of dozens of roaches.



36. Both German and American cockroaches can reproduce without males.
When a female German cockroach or an American palmetto bug is deprived of the opportunity to mate, it can still lay eggs, all of which will hatch as female cockroaches, and all of which will have the potential to lay their own eggs, also all hatching as females. After two generations, this process of parthenogenesis results in genetic problems that make the third generation too unhealthy to reproduce. Missing even one cockroach can result in a massive infestation 9 to 12 weeks later.
The smaller German cockroaches, in particular, are highly social and reproduce as long as there is an adequate supply of food and water.
German cockroaches like to socialize, although younger German cockroaches younger with younger German cockroaches and older German cockroaches associate with older German cockroaches, male cockroaches "hanging out" with other male cockroaches more than females congregate with females. The presence of other cockroaches is more important than the safety of the insect harborage, since roaches find safety in numbers.
Roaches will come out in the open when they are present in large groups. This is particularly true in dry climates. Each roach is surrounded by a tiny cloud of water vapor, which can help keep neighboring roaches from experiencing thirst.
Roaches will reproduce almost without limits given adequate warmth, food, and humidity. As many as 100,000 German cockroaches have been counted in a single, four-room apartment.



37. Cockroach droppings and cockroach skeletons emit chemical signals that cause cockroaches to gather.
If tiny black pellets of cockroach frass (feces) and dead cockroach bodies are not cleaned up, other cockroaches will gather to eat them.



38. Cockroaches contribute to global warming.
All species of cockroaches contain bacteria in their digestive tracts that release methane as they digest cellulose from wood, leaves, and paper. Methane, like carbon dioxide, is a greenhouse gas. The contributions of cockroaches to global warming is, of course, much less than the contributions of human use hydrocarbon fuel, but not insignificant. Cockroaches, in some environments, make up as much as 24% of the total animal biomass.



39. Cockroaches are used in folk medicine.
American jazz legend Louis Armstrong's mother, following an old African slave tradition, fed him a broth of boiled cockroaches whenever he was sick. Many systems of native healing, including Traditional Chinese Medicine, use cockroaches as a diuretic to fight joint pain and water weight. Cockroaches are also used in homeopathic medicine, typically for the conditions that cockroaches aggravate, such as asthma.



40. Household drains contain everything a cockroach needs.
A kitchen or bathroom drain supplies a roach with food, water, and protection from predators. Simply closing a drain at night, lowering the plunger as if filling the wash basin with water, can keep roaches from coming up pipes at night. Pouring a small amount of bleach into kitchen drains at night can help prevent roaches in the kitchen, although you do not want to do this if your plumbing is connected to a septic tank. (The bleach can kill the bacteria that digest the sewage in the tank.) It is also important to run the garbage disposal every time you put kitchen scraps in it, running enough water to force the garbage down the drain past the trap where roaches may hide.



41. One non-toxic way to control cockroaches is by giving them birth control.
A chemical called hydroprene doesn't kill cockroaches, but it keeps baby cockroaches from being able to shed their exoskeletons so they can mature to reproductive size. If you put out hydroprene, you get roaches who are stuck in the insect equivalent of adolescence, running around and acting stupid (OK, running around, but without mating or laying eggs). Eventually, in about a year, all of your roaches die of old age without having reproduced.
Hydroprene comes in foggers, aerosol sprays, or discs placed in tiny roach motels. It also comes in handy squeeze tubes under the generic name Gentrol. The product has to be put out about every 90 days, and it won't get rid of any roaches you already have. With other roach control methods, however, it will give you long term freedom from your roach problems.



42. Roaches are repelled by moth balls.
Moth balls aren't just for moths. They also repel roaches. A couple of moth balls behind the stove, under a sink, or in a cabinet can keep the space cockroach-free. Moth balls don't smell good, and they are mildly toxic to humans, so don't put them out where food is stored or where pets or children may play.



43. Cedar repels both silverfish and cockroaches.
Cedar wood or a cedar veneer in a chest or closet keeps roaches away. A solid cedar chest may retain its insect repellent qualities for more than half a century. If you can't install cedar veneer into closets or cupboards, putting out essential oil of cedar is the next best thing. Just make sure you don't swallow the oil or splash it on your skin.



44. Make your food supply roach-safe starting with dry goods you use a little at a time.
Roaches usually don't find their way into your refrigerator or freezer, and they can't open cans or vacuum-packed bags. The foods most commonly attacked by roaches are dry goods, such as cereal, rice, beans, sugar, and flour. The solution to roaches dining on dry foods is to keep them in insect-proof canisters, ceramic crocks with tight-fitting lids, sealable plastic bins, or at least plastic freezer bags. Just rolling up the liner inside a cardboard box won't keep roaches from coming in.



45. Keep roaches from climbing the legs of tables and chair with silicon tape.
Silicon tape, which is also known as thread tape, looks like white tape but is actually very slippery. Cockroaches can't get a grip on the tape to climb it to reach food and drink above. Silicon tape is especially desirable on baby's high chair. You can always remove the tape at a later date because there is no adhesive on the back of the tape. It is naturally sticky without any paste or glue.



46. Don't let roaches go to bed with you.
If you have a roach problem, keep roaches out of your bed by removing dust ruffles, long duvets, heavy comforters, and blankets that hang down from the bed to the floor. Cover the lower parts of bed posts with silicon tape until you have roach problems under control.



47. Spray diatomaceous earth into crawl spaces where cockroaches live and breed.
You don't have to start drilling holes in your walls, but it usually helps to remove the covers on electrical outlets and light switches and spray in diatomaceous earth. This product won't do a lot to kill cockroaches except at certain critical times when they outgrow their outer "shells" and have to molt, exposing their interiors. When this happens, the dust can dry out the cockroach so it dies.
When you have to bring out the heavy artillery of insecticides to get roaches under control, start outside your house, not in.



48. Keep roaches from coming inside your house with an exterior-use product like Suspend.
Many homeowners try to avoid using any kind of toxins in or around the house. If you just have to get insects under control, however, a modern product like Suspend will provide long-lasting protection without leaching into the ground and the water table below it.



49. If you live in New York or Connecticut, state laws limit the roach killers you can buy. New York and Connecticut residents, however, can buy products that contain the toxin fipronil.
Fipronil is the active ingredient in the MaxForce roach baits. It works by poisoning the central nervous system of the roach, and because it works slowly, other roaches consume the poison after they consume the first dead roach. Fipronil is highly toxic to fish and bees and should only be used as directed, preferably inside the house.



50. The simple truth is, the most effective way to keep roaches under control is to keep your home clean and neat.
Roaches consume waste. If you simply don't allow various kinds of waste to accumulate in your home, roaches will go elsewhere. Good housekeeping may not be enough to get rid of roaches, especially if a prior occupant of your home let roaches get out of control, but it's essential to keeping any home roach-free.