Pest control companies cost a lot of money. They provide their services on their schedule, not yours. You have to schedule time to meet them at your house, and there is always the possibility of getting ripped off.
The most important reason to why not just use a pest control company, however, is not the money or the time or the potential for being cheated out of your hard earned money. The most important reason to take charge of your own pest control is to keep little pest problems from becoming big problems.
From One Pair of Mice to a Million
Consider what can happen when you see a mouse. If you see a mouse in your cupboard, you will buy a mouse trap, bait it, set it, and wait for evidence in the form of a dead mouse to know that your efforts have paid off. Or if you have a heart for small furry creatures, maybe you will buy a mouse cube that traps the rodent with a bit of cheese and holds it until you can leave it at its new home.
But suppose you spy a mouse or a rat in the garage or in a tool shed and you decide to do nothing. One of the realities of well-fed rodents is that they reproduce. Both male and female mice become sexually mature at the age of seven weeks. Female mice can become pregnant essentially any time they are not pregnant already. They reproduce all year round, bearing litters of 10 to 12 baby mice after a pregnancy that lasts less than 3 weeks. The female mouse can get pregnant again just 3 days after its litter is born. Under ideal conditions, a single mouse can produce 12 offspring a month throughout its life of three years—over 400 mice in all.
And each of it daughters and granddaughters and great-granddaughters can bear another 400 mice, on and on, as long as there is plenty food.
Surely neglecting one pair of mice could never result in having a million mice in the attic, you might say. Unfortunately in at least one case, that is exactly what happened. The Animal Planet program Infested! reported the story of how mice multiplied in the town of Streaky Bay, Australia to the point they forced the entire community to flee to the ocean shore for safety.
It Isn't Just Mice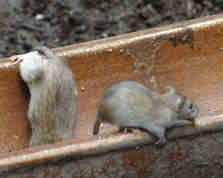 Animal Planet also documented the story of a couple in Hawaii whose house sustained over $1 million in damage when rats took up residence in their attic. Of course, to have $1 million in damage to your home, you must first have a $1 million home, but lesser amounts of pest damage are common.
In California, the average homeowner spends $500 to $1000 to have a landscape architect draw up plans for the yard, and then spends about $25,000 on a natural landscape to $50,000 for a formal garden plan for a lawn of 50 x 50 feet. A single gopher can denude a 50 x 50 lawn in just two months.
Northeastern Ohio abounds in wild skunks. A single visit from the exterminator to set out a trap for skunks may cost $500. Up to 20 visits may be necessary to trap a single skunk.
In Washington, D.C., killing wild animals is prohibited. Trapping a squirrel in the attic may cost $500, and then there may be an additional $500 to $5,000 expense to repair the damage it caused as it gnawed its way in.
The worst damage caused by uncontrolled pests is not economic. In the western Canadian province of British Columbia, a two year-old boy lost his sight and developed seizures when roundworm larvae invaded his young brain. Animal control experts concluded that the young boy caught roundworms from petting the family dog, and the family dog picked up roundworms on its coat when it rolled around in the dirt—over a year after roundworms were deposited into the soil by raccoon feces.
Timely action to control pests can save hundreds or thousands or even hundreds of thousands of dollars. More importantly, getting rid of pests in time may save the life of your pets, your family members, or even yourself.
What You Will Find on This Site
This site will offers the most comprehensive and up-to-date knowledge on the Internet about integrated pest management for controlling rats and mice, moles, gophers, squirrels, raccoons, and skunks, the most common homeowner pests around the world. You find pages that help you identify pests and exclude them from your property. You will find information on pest control equipment, like kill traps and live traps. You will learn the methods of natural control for each pest, as well as the limits of what the law allows you to do to protect your family and your property.
No method of pest control recommended on this site costs more than $200. Most methods of getting rid of pests recommended on these pages cost less than $20. You will find the information you need for preventing the most serious damage first, taking care of pest problems without harming your neighbors, poisoning the environment, violating your ethical principles, or breaking the law.
And on almost every page you will find easy links to the products that work for home pest control.
You don't have to spend a fortune to get rid of rats, mice, squirrels, raccoons, skunks, and gophers. You just have to take timely steps at the first sign of problems. Here is the best place to find all the information you need to live a pest-free life without harming the wild creatures in your environment.