Rat traps are commonly baited with cheese, peanut butter, or bacon. The best choice of rat bait, however, depends on the type of rat you are trying to catch. Here are ten easy tips for choosing the best bait for trapping and removing rats. You can find more information here How to Get Rid of Rats.
#1 Tip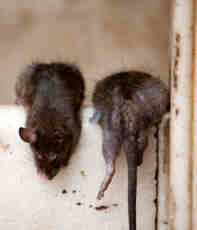 Black rats are vegetarians. Brown rats eat both plant foods and meat. According to the BBC, black rats have made a comeback  in the UK and here some facts about brown rats as supplied by the Internet Center for Wildlife Damage Management. If you have more than one kind of rat to catch, it is best to use a plant food such as peanut butter as bait.
#2 Tip
It's best to use the same bait over and over again. Rats and mice cannot vomit, so they avoid potential poisoning by eating only tiny amounts of new foods. They are more likely to take a bait they have eaten before.
#3 Tip
If a rat smells a food on another rat's breath, however, it will eat that food. Actually, rats need to smell a combination of carbon disulphide (or "rat breath") and a food odor to feel comfortable eating a new food. Once one rat takes a bait, others will compete for it. The best way to make sure this happens is to put out a bait food on traps you have not set for several days before you set the traps.
#4 Tip
Stinky, sulfurous smells attract rats. In fact, an extract of sulfur odor all by itself will encourage rats to eat wood, cardboard, and other non-nutritive materials. The stinkier the cheese, the more attractive it is to brown rats.
#5 Tip
Rats hold food in the paws and eat the middle, allowing the two ends to fall to the floor. Longer, thinner foods are preferred to nuggets or pellets.
#6 Tip
Large pieces of food used as rat bait can be dragged off or out of a trap and consumed elsewhere. Make sure the bait fits on the platform provided with the trap.
#7 Tip
Rat attractants in small amounts attract rats, but in large amounts they repel rats. Most rat attractants are synthetic versions of "rat breath odor" that rats use to signal the safety of a food supply. Using too much of the rat attractant—or using commercial rat bait that has been allowed to dry out—will chase rats away from traps.
#8 Tip
To entice a rat to enter a trap, place bait underneath the bait platform as well as on it. It's also useful to place bait just outside the trap, enticing the rat to step on the trap or go inside the trap to get more.
#9 Tip
To entice a rat to enter a "rat zapper," place the bait to one side of the trap. Because of the placement of their eyes, rats have better vision of the bait when it is placed to the side of the trap than when it is put in the middle of the trap.
#10 Tip
If you have a problem with traps being triggered by vibrations without the rat inside, buy the Victor Rat Traps M326. It has a large bait tray that holds the bait in place until the rat is in the trap.